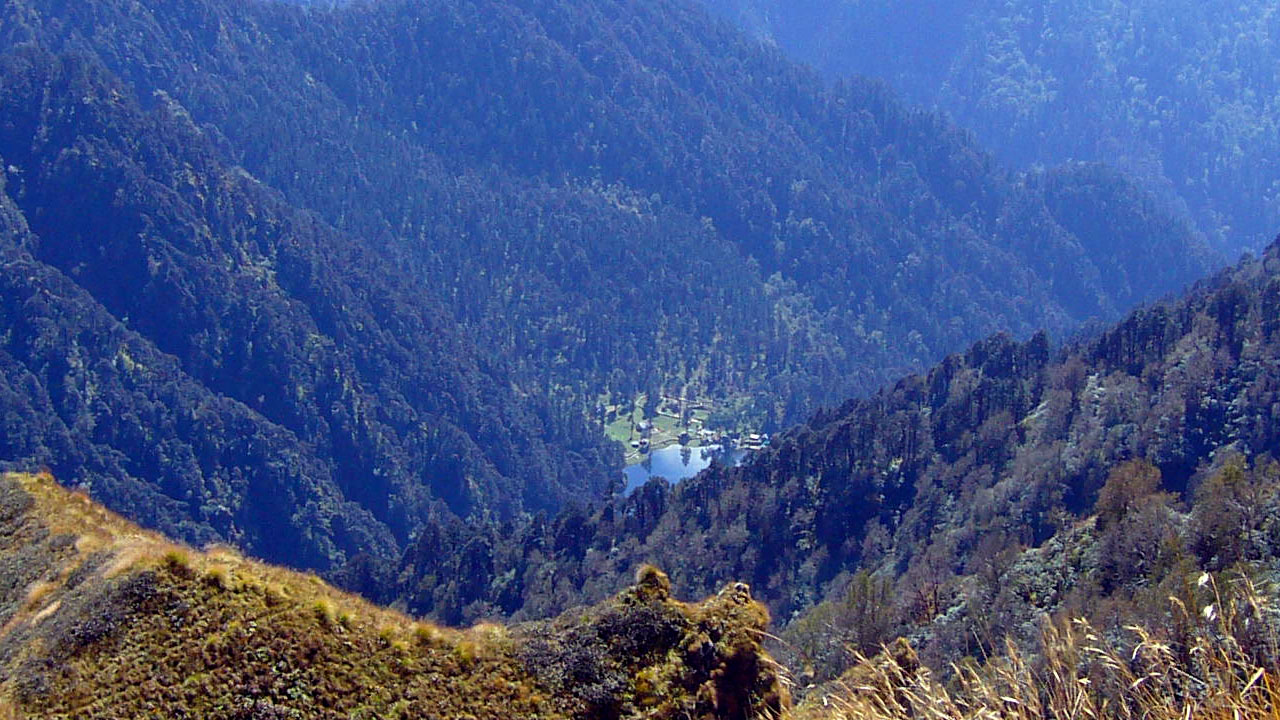 The ideal camping location is near the holy Lake Dodital and the temple. The Dodital trek trail begins in Bhagirathi Valley, crosses Darwa Pass, and then descends to Yamuna Valley. Some pilgrims and Gujjars continue to use the route. Darwa Pass provides an excellent view of the Bandarpunch and Swargarohini ranges of peaks. Different versions of the trek, from crossing Darwa Pass to returning to Darwa top as the season changes the grade. The winter version is now available.
Trek Details
Area: Uttrakhand – Dodital – Uttarkashi
Altitude: Min: Uattarkashi (1350 Mts.) Max: (4160 Mts.)
Age: 8 years and above.
Duration: 05 Days – 04 Nights
Trek Grade: Easy Moderate Difficult
Best Time: April to July end, Sept to Nov
Dodital Trek Route Details
Day 01: Trek Kalyani to Bhewra 3-4 hrs
Day 02: Bhewra to Dodital 6-7 hrs
Day 03: Dodital to Kanasar 5-6 hrs
Day 04: Kanasar to Kandoli 6-7 hrs
Day 05: Kandoli to Hanuman Chatti
Cost: INR 25,000 / 300$ US
Includes: Professional guide, permit, shared tent accommodation, all meals from day 1 lunch to last day lunch, safety- first aid kit, and other technical equipment. Shared cab from Uttarkashi to Kalyani.
Excludes: Transportation to and back from Uttarkashi, Individual Potter, mules, meals while driving (no drive in this trek), and stay in Uttarkashi.
Optional: Extra cost for Potter/mule for a day pack.
Dodital Trek Itinerary
Day 01: Trek Kalyani to Bhewra 3-4 hrs
Drive from Uttarkashi to Kalyani (1350m) 1 hrs
Trek Kalyani – Agora (1950m) 2-3 hrs (gradual uphill)
Agora – Bhewra (2050m) 30min – 1 hr (gradual and last part is downhill)
Overnight Camp Bhewra is a summer settlement for Agora village
Day 02:Trek Bhewra to Dodital 6-7 hrs
Bhewra – Majhi 4-5hrs (Long uphill traverse above the right bank of Asi Ganga river (a tributary of Baghirahti river)
Majhi – Dodital (3310m) 1-2hrs (Gradual up and downhill crossing a few bridges on the stream)
Overnight camp sacred Dodital Lake
Day 03: Trek Dodital to Kanasar 5-6 hrs
Dodital – Darwa Pass (4160 m) 3-4 hrs (First crossing streams a few times and then Switch back uphill until Darwa pass)
Darwa pass – Kanasar( 4100 m) 1-2 hrs (Gradual traverse, Enter in Yamnotri Valley from Gangotri Valley)
Overnight camp Kanasar.
Day 04: Trek Kanasar to Kandoli 6-7 hrs
Kanasar – Seema (3450m)3-4 hrs long traverse with switch back up and downhill on Darwa and Gola meadows.
Seema – Kandoli (2800m) 2-3 hrs Downhill until Kandoli.
Day 05: Kandoli to Hanuman Chatti.
Trek Kandoli – Hanuman Chatti (1800m)2-3 hrs all the way downhill to Hanuman Chatti.
Drive Hanuman Chatti is a road head you can book transport.
---
Recommended For You