Ascent Descent Adventures also rents out mountain equipment for trekking, hiking, Skiing, snow safety equipment, climbing, camping, and other sports. However, we strive to provide you with the finest quality products and services. Generally, we provide hiring equipment from top-tier companies like as Mountain Hardwear, La Sportiva, Mountain Equipment, Black Diamond, Scarpa, and Petzl, all for a fraction of the retail price. In brief, our crew has decades of outdoor expertise and is enthusiastic about what we do.
Moreover hiring equipment for your next expedition has never been easier.
---
Hire Mountain Guide
A mountain guide can also be hired for your climbing expedition or trek. All you need to do is email us to inquire about availability.
---
TV / Films
Rope access is provided by Ascent Descent Adventures for filming at heights or in difficult-to-reach and possibly dangerous environments such as forest canopy, cliffs, or towering platforms. Prioritizing all aspects of rope access, such as rigging, safety, and monitoring. Please use the Contact button underneath!
---
Please scroll down if you are simply looking for equipment for your personal adventure.
How Hiring Works for Equipment
Simply book directly on our website by picking your equipment, informing us of your hire dates, and paying the hiring fee. After the hiring, clean it up, pack it up, and return it to our shop.
Hire the equipment for as little as two days or as much as four weeks.
Lastly for equipment hiring availability and questions, please call Kapil at +91 – 981 625 7777
Basic Equipment Hire List
| | |
| --- | --- |
| Back Pack / Rucksack | |
| 40 -50 Litre | Rs. 100/- Per Day |
| 70 Litre | Rs. 180/- Per Day |
| Hiking Shoes | Rs. 200/-Per Day |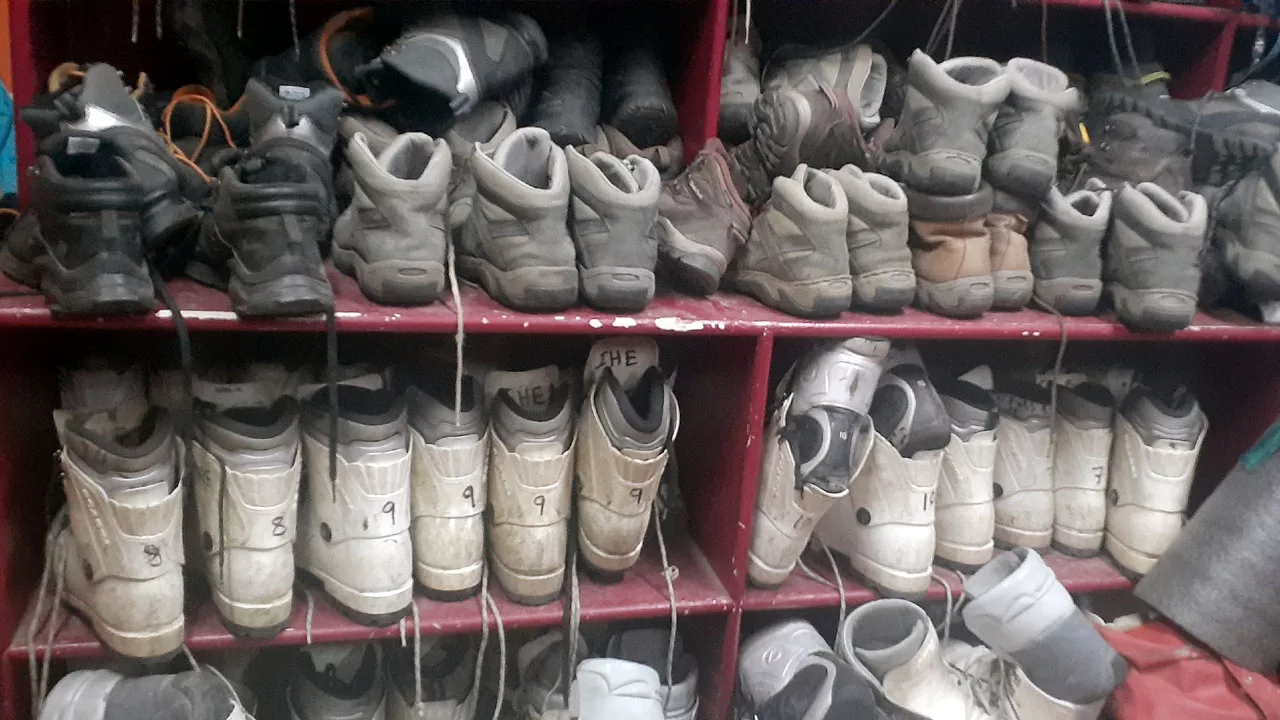 Alpine Climbing Equipment Hire List
Rock climbing Shoes and Mountaineering Boots hire
| | |
| --- | --- |
| Rock Climbing Shoes | Rs. 300/- Per Day |
| La Sportiva Mountaineering Boots: | Rs. 450/- Per Day |
| Scarpa Mountaineering Boots: | Rs. 100/- Per Day |
| | |
| Mountaineering Crampons: | Rs. 100/- Per Day |
| Mountaineering Ice Axe: | Rs. 100/- Per Day |
| Gaiter: | Rs. 50/- Per Day |
| | |
| Technical hardware | |
| Snow Shovel: | Rs. 100/- Per Day |
| Carabiner: | Rs. 50/- Per Day (Locking) |
| | Rs. 30/- Per Day (Non-Locking) |
| Quickdraw: | Rs. 30/- Per Day |
| Giri Giri | Rs. 150/- Per Day |
| Jumar | Rs. 50/- Per Day |
| Seat Harness | Rs. 300/- Per Day |
| Friend | Rs. 50/- Per Day |
| Chock Nuts (big/small) | Rs. 30/- Per Day |
| Descender: fig of 8 | Rs. 30/- Per Day |
| Belay device | Rs. 100/- Per Day |
| Pully: | Rs. 50/- Per Day |
| Ascender: | Rs. 80/- Per Day |
| Helmet: | Rs. 50/- Per Day |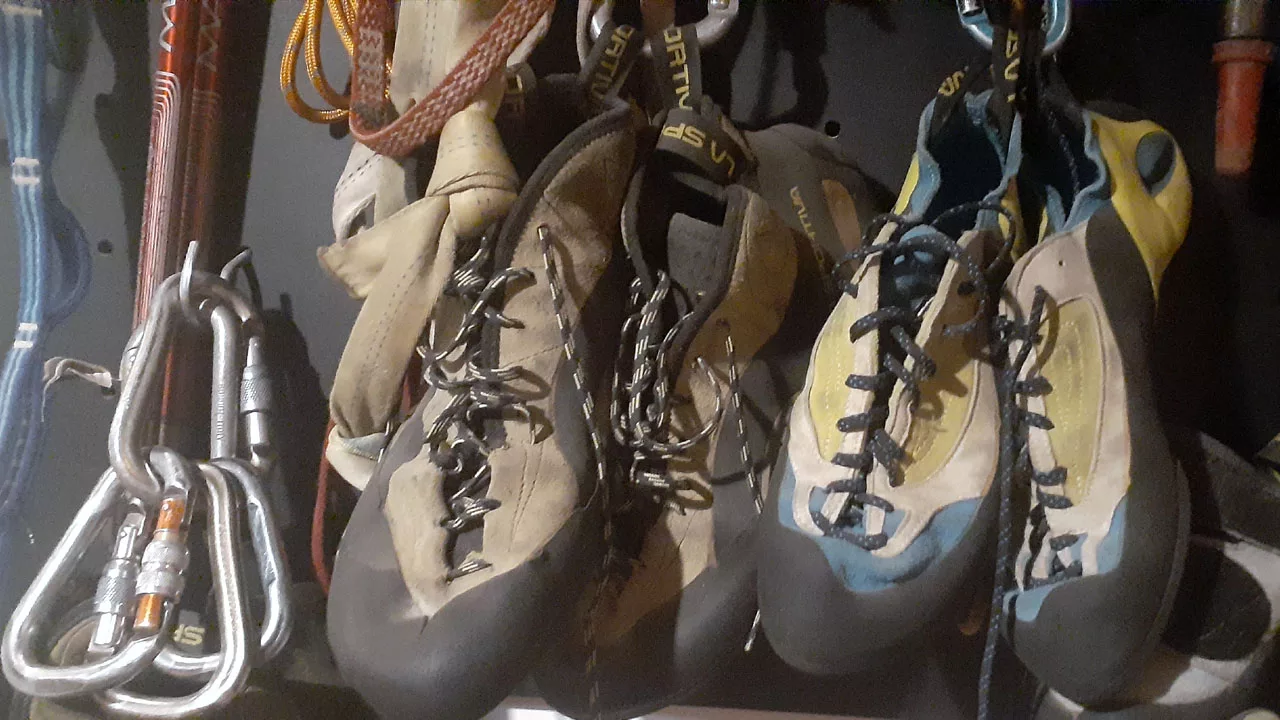 Technical Climbing Equipment Hire List
| | |
| --- | --- |
| Technical Crampons: | Rs. 300/- Per Day |
| Technical Ice Axe: | Rs. 300/- Per Day (Pair) |
Mountaineering Ropes Hire List
| | |
| --- | --- |
| Climbing rope | Rs. 500/- Per Day |
| Rapling Rope | Rs. 400/- Per Day |
| Static Rope (Cordlet) | Rs. 300/- Per Day |
Mountain Rescue and Emergency Hire List
| | |
| --- | --- |
| Portable Altitude Chamber: | Rs. 2000/- Per Day |
| Folding Stretcher: | Rs. 200/- Per Day |
| Oxygen Cylinder: | Rs. 300/- Per Day |
Skiing Equipment Hire List
| | |
| --- | --- |
| Ski Sets | |
| Adult Ski Set : | Rs. 1000/- Per Day |
| Child Ski Set: | Rs. 1000/- Per Day |
| Ski Touring Set: | Rs. 1500/- Per Day |
| Snowshoe : | Rs. 300/- Per Day |
| | |
| Clothing | |
| Ski wear: | Rs. 600/- Per Day |
| Down Jacket: | Rs. 250/- Per Day |
| Waterproof Warm Jacket: | Rs. 200/- Per Day |
| Waterproof Trouser: | Rs. 200/- Per Day |
| Sun Glasses: | Rs. 50 /- Per Day |
Trekking and Expedition Equipment Hire List
| | |
| --- | --- |
| Easy trek | |
| 2 Season Tent 2 Men | Rs. 250/- Per Night |
| 2 Season Tent 3-4 Men | Rs. 350/- Per Night |
| Normal Feather Sleeping Bag | Rs. 120/- Per Night |
| Ultra Light Mattress | Rs. 50/- Per Night |
| | |
| Moderate trek | |
| 3 Season Tent 2 Men | Rs. 350/- Per Night |
| 3 Season Tent 3-4 Men | Rs. 450/- Per Night |
| Down Feather Sleeping Bag: | Rs. 220/- Per Night |
| Ultra Light Mattress | Rs. 50/- Per Night |
| | |
| Difficult treks | |
| 4 Season Tent 3men tent | Rs. 550 /- Per Night |
| Down Feather Sleeping Bag: | Rs. 220/- Per Night |
| Ultra Light Mattress | Rs. 50/- Per Night |
| Trekking Poles: | Rs. 100/- Per Day |
| | |
| Kitchen and Cooking | |
| Cooking Set for Self-Sustained Trips | Rs. 250/- Per Day |
| Multi Fuel Stove | Rs. 150/- Per Day |
| Butane Burner | Rs. 80/- Per Day |
| | |
| Others | |
| Dining Tent: | Rs. 850/- Per Night |
| Kitchen Tent: | Rs. 650/- Per Night |
| Toilet Tent: | Rs. 300/- Per Night |