---
32.2432° N, 77.1892° E (Altitude: 2050 m / 6398 ft)
Manali is a township in the western Himalayas' Land of Gods (Himachal Pradesh), located in the Beas River valley. It is named after Manu, the Santan lawgiver in Manusmriti. The name is Manali is believed as the derivation of Manu-Alaya 'the abode of Manu'.
It is not only India's adventure capital, but also a legendary land where one of the Saptrishi Vashista (son of Lord Brahma) meditated, followed by the next generation of Parashar Rishi, Ved Vyasa, and others.
Manu of India, Mises of Egypt, Minos of Crete – we believe they are all the same, despite the different names and historical evidence as the Manu temple in Manali. According to this religious belief, the human race originated here.
As a spiritual person, entering this heavenly land is your portal to divinity because tectonic plates fault lines meet at Rohtang Pass (3978m), which was a source of energy for Maharishi Vyasa for meditating after a bath in Beas Kund (3641m) every day, which is a multi-day trek for us.
It is the Himalayan Adventure Gateway to mountaineering, paragliding, rafting, skiing, trekking mountain biking, rock climbing, bungee jumping, zipline, and other activities in the Pir Panjal Mountains. For both domestic and foreign travelers, a one-stop location.
Rock Climbing in Aleo, Manali Himachal Pradesh India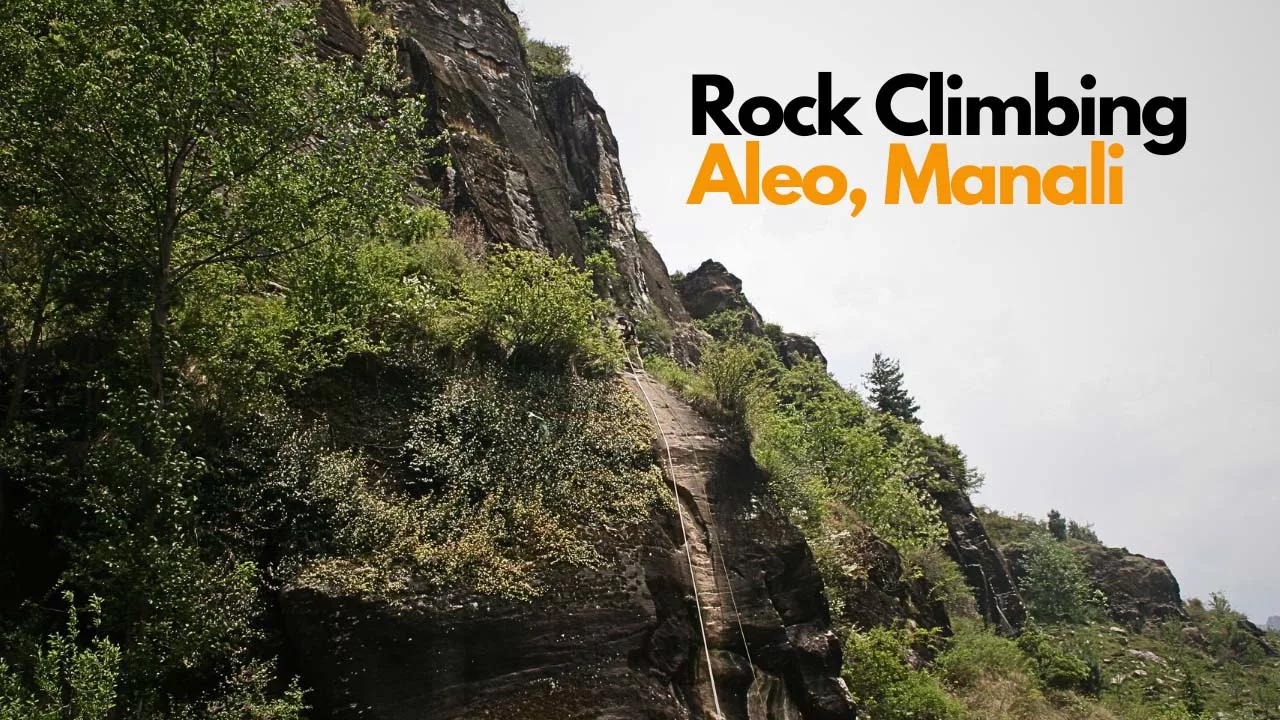 In the reflection of adventure, Manali is labeled "Mini Switzerland" – we believe there is no comparison between the Himalayas and the Alps, as each has its own natural charm. Despite the fact that we understand that Switzerland is a developed, sparsely populated country.
As there is always order in the midst of chaos, one can compare Switzerland to a Mini Manali!
---
How to Get Here
There are two ways to get here: both Chandigarh and Delhi have international airports. If you intend to visit solely Manali, the best option is to book a flight from your home country to Chandigarh.
The simplest and most economical method to get here is by automobile. Roads link to several locations, including Delhi (540 kilometers) and Chandigarh (305km).
From Delhi
Road
HRTC Volvo: Distance 540km (13h – 14h)
Taxi: Hire a direct taxi from Delhi Airport.
Air
From New Delhi to Kullu or Bhuntar Airport: Aerial Distance 366km (01h 25m)
From Bhuntar Airport to Manali (Bus/ Taxi): Distance: 50km (01h 15m)
Book your Flight to Kullu on KAYAK
Train (No direct train)
From New Delhi to Anandpur Sahib Railway Station: Distance from Delhi 383km (07h – 08h)
Anandpur to Manali (Bus): Distance from Anandpur to Manali 244km (14h – 15h)
Anandpur to Manali (Taxi): Cab Travel Time 07h 30m

From Chandigarh
Road
HRTC Volvo Bus: Distance 305km (07h – 08h)
Taxi: Hire a direct taxi from Delhi Airport.
Air
From Chandigarh to Kullu/ Bhuntar Airport: Aerial Distance 137km (50m)
From Bhuntar Airport to Manali (Bus/ Taxi): Distance: 50km (01h 15m)
Resources:
Or Simply
Ascent Descent Adventures Meeting Location: Hotel Kunzam Manali
---
---
Recommended for You
Winter trek Duwara or Dawara starts…
The formidable Himalayan ranges…
Beas Kund is the sacred Hindu lake…