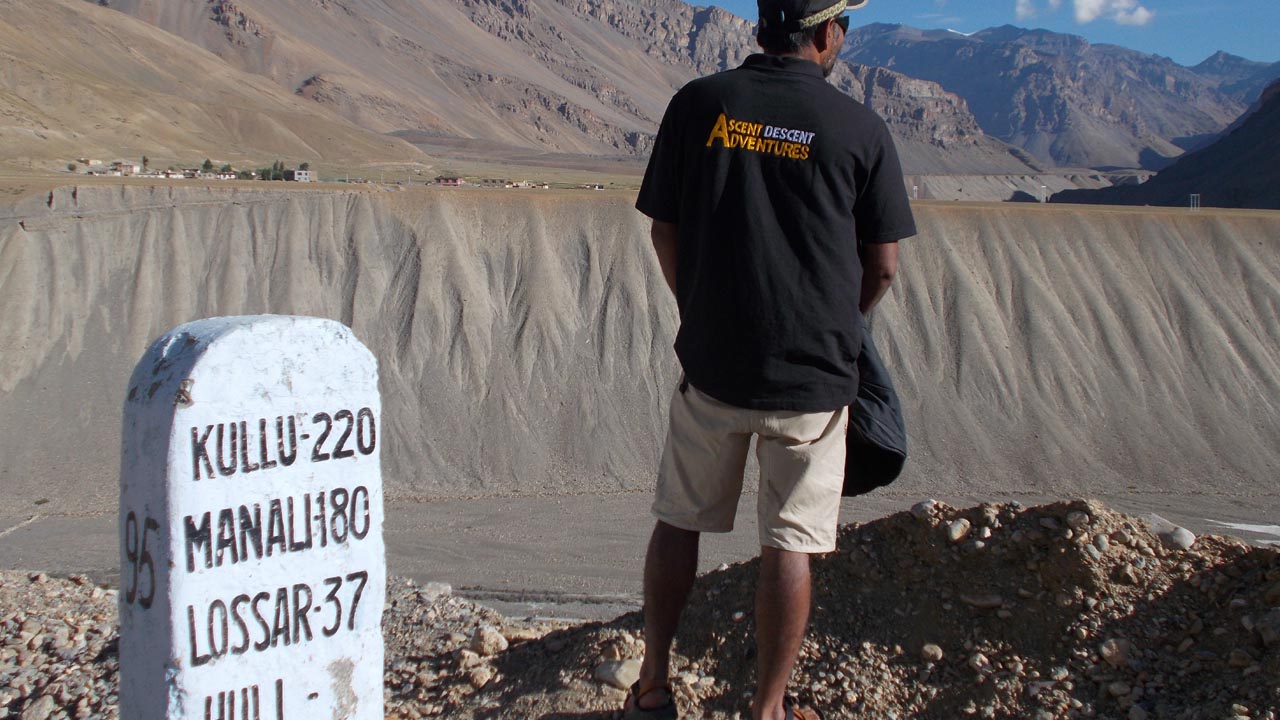 ---
32.6192° N, 77.3784° E (Altitude: 4270 m / 14,010 ft)
The Lahaul – Spiti district in the Indian state of Himachal Pradesh combines the two historically independent districts of Lahaul and Spiti. The climate of Lahaul is extremely dry and chilly. The Great Himalayas to the north, the Pir Panjal to the south, and the Spiti-Chandra Valley to the east encircle it on all sides. Pangi is lower and warmer than Lahaul. Lahaul has a lot of glaciers and high peaks. Bara Shingri is the largest glacier in the area.
What we call outdoor adventure today, aborigines of this region live their normal daily lives, and this adventurous survival instinct in locals has been inscribed in rock art script since archaeologists dated it back to 3000 BC.
Lahaul
'Lahaul' comes from the Tibetan language Lho-yul denoting country in the south or of Lhahi-yul meaning land of the gods.
Lahaul is populated by Lahulis, Buddhists who practice Lamanism. Their cheekbones are Mangoloid, similar to the Ladakhis. The toughest human race in human history continues to trek the Greater and Trans Himalayas. They are distinct not only in appearance but also in custom and culture. They engage in polyandry family. A woman has several husbands who work for her. Also, she is the sole proprietor of all property matrilineal societies. As connection grows, so does social transformation in the region.
Back in the day, the Lahauli's major source of income is sheep-rearing. As a result, their primary commodity is wool. Another, they grow some barley and millet. Additionally, Kuth, a plant root, is gathered for export to Hong Kong, where it is utilized to make various medications. Markedly Keylong is Kuth's collection and dispatching center.
The Kunzum Pass, which connects the Spiti and Lahaul valleys, is home to the Kunzum Mata temple.
Spiti
"Spiti" means "middle region," pointing to the area between Tibet and India.
Comparatively, Spiti is less accessible than Lahaul. Despite the fact that the Spiti River nourishes the Satlej, the only way to reach Spiti is via Lahaul and Kinnaur. Furthermore, the altitude is incredibly high, and the Spiti Valley is exceedingly chilly. Correspondingly glaciers flow into the valley from the snowy hills that encircle Spiti. Chiefly the Great Himalayan range runs south of Spiti. Additionally, Shilla is the highest peak (7025m). Obviously, the inhabitants of Spiti, like the Lahaulis, practice Lamanism. Additionally, Spiti is home to the well-known Dhankar (the fort on a cliff) and Kee (Kyi, Ki, Key, or Kee) Gompa monastery. There are some large communities here, such as Hansi in the upper valley and Kauirik lower down.
Until the 1970s, this district was part of the Kangra district of Punjab. Firstly, it is separated into two segments physically. However, the Chandra and Bhaga rivers rise and mingle at Tandi below Keylong, the capital, to cleanse Lahaul. Basically, the road runs across Lahaul, beginning in Rahla, entering Lahaul by the Rohtang pass, passing through Khoksar and Keylong, and exiting via the Baralacha La. Surely, the Atal tunnel now makes it easier for locals to travel from Lahaul.
---
How to Get Here
Firstly there are two ways to get to Spiti: one from Shimla via Kinnaur and another from Manali. To reach Manali you can take direct flights from both Chandigarh and Delhi.
Secondly, the simplest and most economical method to get to Spiti is by automobile. Roads link Spiti from Shimla via Kinnaur and from Manali via Lahaul (Atal Tunnel).
From Delhi to Manali
Road
HRTC Volvo Bus: Distance 540km (13h- 14h)
Taxi: Hire a direct taxi from Delhi Airport.
Air
From New Delhi to Kullu or Bhuntar Airport: Aerial Distance 366km (01h 25m)
From Bhuntar Airport to Manali (Bus/ Taxi): Distance: 50km (01h 15m)
Train (No direct train)
From New Delhi to Anandpur Sahib Railway Station: Distance 383km (07h -08h)
From Anandpur Sahib to Manali (Bus/ Taxi): Distance from Anandpur 244km

Bus Time14h – 15h and Cab/ Taxi Time 07h – 08h
From Manali to Spiti Valley
Road
HRTC Volvo Bus: Distance 196km (10h- 12h)
Taxi: Hire a direct taxi from Manali.
From Chandigarh to Manali
Road
HRTC Volvo Bus: Distance 305km (07h – 08h)
Taxi: Hire a direct taxi to Chandigarh Airport.
Air
From Chandigarh to Kullu or Bhuntar Airport: Aerial Distance 137km (50m)
From Bhuntar Airport to Manali (Bus/ Taxi): Distance 50km (01h 15m)
From Bhuntar Airport to Spiti (Bus/ Taxi): Distance 246km (07h – 08h)
Resources
Or Simply
---
---
The old princely state of Chamba is situated…
Manali is a township in the western… 
Balance and comfort are essential while…